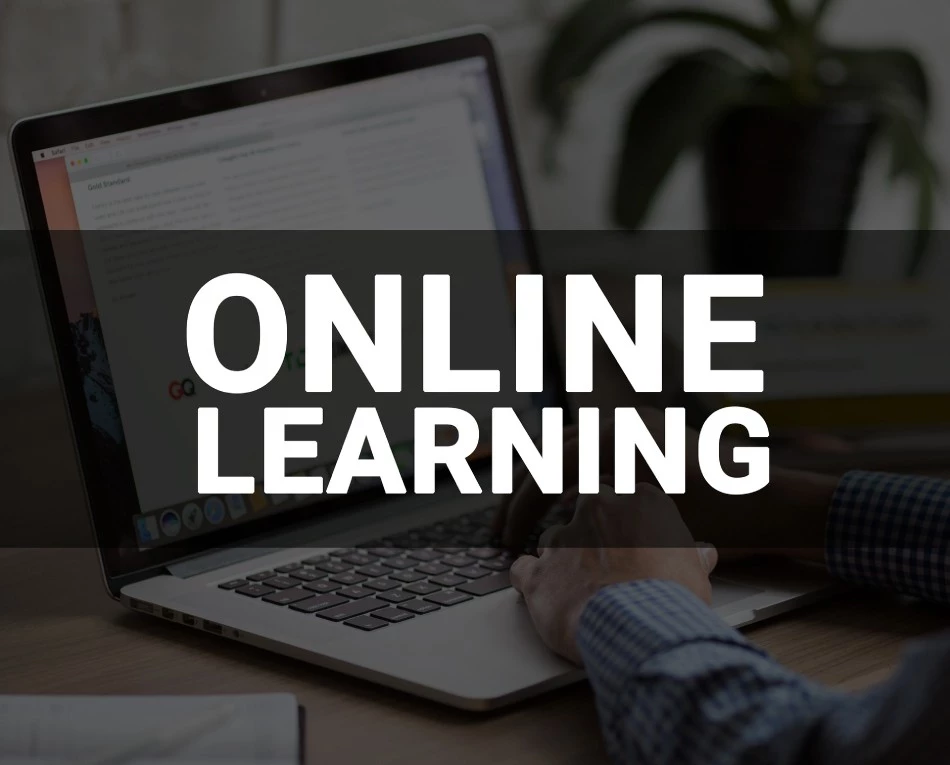 Thanks to the advent of technology, online learning is possible in many institutions around the globe.
Students can now access learning resources and lectures without the need to attend in-person lessons.
E-learning gives them a chance to enjoy a studying experience that is suited to their schedule. And with numerous courses for almost all subjects plus flexible schedules, you will find it the best alternative to on-campus study.
So what is Online Learning?
Online Learning is a form of education in which students use their smartphones or computers to enable student to teacher interactions and the distribution of class learning materials.
Modern technology has led to the creation of educational platforms that enable students to study online while at the same time participating in discussions and watching lectures.
Most campuses also deploy online learning to all students and give them maximum support to ensure they succeed in their courses, just like on-campus studying.
Online Learning vs Traditional Learning
There are many similarities between online learning and traditional learning.
These include that both aim to ensure the students get the maximum educational support for their course.
Online courses are more robust and educational, just like on-campus learning.
The only significant difference is that for online learning, students can learn from anywhere at any time.
However, for classroom learning, the students and the tutors must be at the same place simultaneously for the learning to take place.
Online learning promises huge potential in ensuring the students access learning resources regardless of their location.
As long as the students have access to electricity and the internet, they can receive text, audio, video learning resources from their lecturers, and even enjoy live chats.
Also, when fully utilized, online learning becomes more effective than face-to-face learning, and it can be tailored to fit anyone's schedule.
Advantages and Disadvantages of Online Learning
Many institutions have now embraced online learning, and you will also find traditional universities sharing their courses online.
Online learning is the best option for people who don't have money or time to enjoy on-campus learning. But what benefits and drawbacks does it presents?
Advantages
Online learning is the best alternative for getting knowledge, especially for students who live far away from their campuses. Students have plenty of time for studying as well as doing their hobbies.
Online learning enables students to access all the traditional course resources, therefore making it easier to attend many courses. This will bolster the self-discipline and responsibility among the students.
Online learning leads to more improved employee knowledge since the students will have the liberty to learn at their speed, time, and style. So if someone requires more time when studying a particular topic, they can make enough time, and they will absorb more info in the end.
Easy to update or correct the online learning materials if there are new changes. This is unlike printed materials that must be reprinted, increasing the overall costs.
Disadvantages
Online learning does not offer human interactions, and therefore students won't learn how to make new friends, compete, and even basic life skills.
It's daunting for online learning to take place when there are thousands of participants. This is due to the limited lecturer time and limited resources.
Is Online Learning better than the classroom?
If you are still undecided about whether online learning is better than traditional on-campus learning, we will give you some vital information.
We are now in 2021, and with the latest technology being leveraged in the classroom, it's now possible to learn and access learning materials or interact with teachers and classmates who are thousands of miles away from you.
On the other hand, traditional learning requires you to be at the same school or class for months or even years before graduating.
But though online learning is exciting, being in a college is also exciting as you get to meet new friends and explore the new environment.
It sounds romantic and exciting, but even online learning opens a new world of opportunities for the learner.
Besides, research shows that students who learn online perform better than those who learn in-person on their campus.
However, the research also emphasizes the right teaching strategies to achieve this success.
The best online learning strategy is where learners are allowed to learn at their own pace and be given a chance to interact with the content, fellow students, and their tutor.
A study made in the US by Statista in 2019 regarding the student's concerns when it comes to online vs on-campus, showed that 21% had expressed some concerns regarding the quality and instruction, and academic support, while 33% expressed no concerns at all.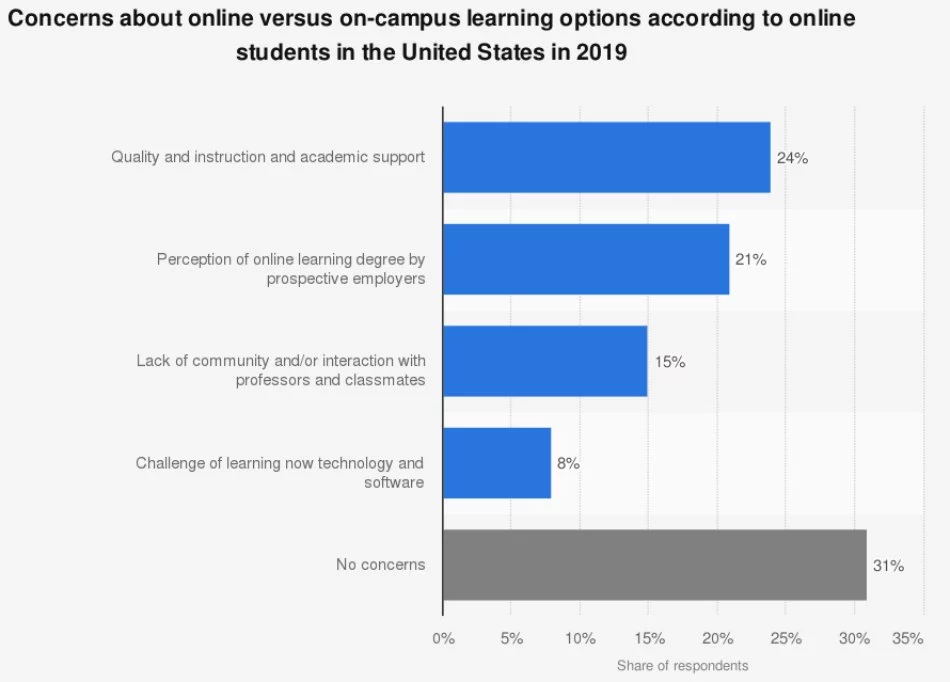 Also, teachers must have clear goals and utilize technology features to enable them to meet their expectations.
Some of the features include discussion forums, online chats, online meetings, replayable audio-visual lessons, and more.
These will help keep the students engaged during online lessons compared to the in-person classroom learning where some learners engage themselves by raising their hands while others hide.
The disadvantage of this is that it will require effort and dedication by the learners and tutors if online learning is effective.
Can I save money with Online Learning?
Yes, online learning is cheaper when compared to traditional on-campus learning.
According to a study by Ed Vosganian, an education analyst, an online learning degree program will cost about 50% cheaper than a campus-learning program.
Besides, a 2018 study conducted by Arizona State University and sponsored by Bill Gates Foundation monitored the saving that one could make when studying online courses in traditional universities.
The researchers found out that a student could save $12-$66 per credit hour if they took up online courses, which is 50% of the total credit costs one can make in an hour.
This shows that one can save money, time, and stress if they choose to study online with an institution with the required infrastructure to support them in their learning journey.
Conclusion
Online Learning is essential even for traditional schools that admit students from faraway places. Students can easily access learning materials and interact with their lecturers via live chats, forums, and messages to raise questions or ask for clarifications.
And with the continuously improving technology, online learning is the future of learning institutions across the world. So is an Online Degree right for you? check out this article and find out more about this awesome topic.