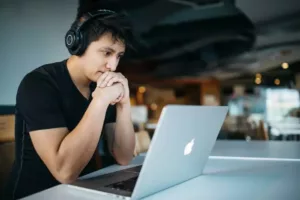 The debate of whether online degrees are worth it has been in public discussion for a long time.
While many think that these programs are worth it, others believe that they are less valuable and are inferior to on-campus programs.
Despite that, online programs are as challenging as on-campus programs and are not cheaper though sometimes they can be.
Besides, life has changed much since the outbreak of coronavirus worldwide, and institutions have now resorted to online studying, at least for now.
But there are fewer challenges since modern technology has made it easier to study online unlike some decades ago when it was impossible.
So, are online degree programs worth it? Let's take a look at what to consider
Are Online Degrees Easier Than On-Campus Programs?
Probably not. Though there is a common belief that online degrees are easier, it's not true, but they do provide more convenience of access.
Online programs enable you to access any course you were unable to in the past.
However, just like other forms of studies, it has the same stressors as on-campus learning, and it's crucial to create a schedule and adhere to it to enhance your chances of success.
Online programs give students some added flexibility and convenience.
Still, they also come with requirements, including reviewing course materials, completing assignments, and exams at the end of each semester.
How much does an online degree cost?
If you want to join an online degree program, you should know that the cost depends on the course, field, and level.
You can calculate the cost of your program to ascertain if you can afford it.
Knowing whether an online degree program is suitable for you can be a daunting task, especially when you want to ascertain your course's total costs.
Luckily, being an online college student comes with the added flexibility of free time to manage other work.
This will help you generate the income you need to achieve your financial goals.
But before you start, you should first compare the costs of studying for your online degree in various institutions before deciding.
Additionally, it would be best if you considered the following factors:
We know that looking for the best schools and programs can be daunting, especially when looking for cost-benefit.
Your due diligence is important but also consider the following: 
Check the Employer Partnerships
If your employee has some arrangements or existing affiliations with an institution, then learn about them before choosing an online program.
Some of these benefits include reduced tuition fees, tuition reimbursement, and more, and they can be tailored based on the employer's requirements.
Your supervisor and HR manager can provide you the information regarding these existing partnerships if any.
Consider Transfer Credit
You can get transfer credits if you studied a related course on-campus in another institution or even online before.
These transfer credits are critical for the online program you want to pursue.
They can help you get reduced tuition costs, and your admission counselors will help you know how you can benefit from these previous credits.
It would be best if you also understood that each school comes with its policies and processes on how they operate.
Know the total costs of studying
Financial comparisons are important when choosing where to study for your online degree.
Most institutions charge their tuition rates based on the level of the program i.e. undergraduate or postgraduate etc.
On the other hand, others use the credit hours while others have fixed studying rates for each semester or academic year.
There are also different types of fees for different activities. You should hire a financial advisor with a sound knowledge of various degree options so that he can guide you on the programs you want to pursue.
The overall costs for your program may be different from those of other students.
For instance, your transfer credits and financial aid package have a significant influence.
Therefore, research every course you want to study and get a financial advisor who will provide you with the estimates of every program you are interested in.
Pros of Online Degree Programs
Well, you might mistake us to be biased, but the reality is that we love e-learning. It is the future of the world, and with the currently improving technology, it's far easier and effective.
Below are some of the things that make e-learning an asset:
Gives more Flexibility
Distance learning programs can provide you with more flexibility and liberty of choosing your study location.
You don't have to travel to a classroom or physically be there during a lesson.
Also, the timetable is flexible most times, and you will get time to do other activities that can generate income to help you take charge of personal finances.
Also, if your work life is quite tough, then you only need to adjust your commitments to manage the online degree well.
A new student will find it best to adapt to the new college life, and for the working class, they can easily balance career and family while studying.
The cost
University studies can be costly, and from the travel fees to tuition fees, accommodation, and food, students have to contend with expensive costs to make their studies comfortable as possible.
But with online studies, you don't have to contend with many expenses, and you can study from any location.
Therefore, it's possible to learn even from any environment at home and minimize the costs.
A study made in the US by Statista in 2020 regarding the main factors for students to decide which school to choose to study an online program, showed that the number one factor with 51% was affordability way over number two in the list with 37% reputation of school/program.
Additionally, since online learning gives you much flexibility in terms of distance, you can stay in an affordable place.
Also, most online learning programs are cheaper, and you can still qualify for school loans.
This is ideal for those with financial challenges or those on a budget; online studies give them a chance to reduce their total costs as they will only need the tuition fees and other miscellaneous expenses that won't add much to their total cost.
The convenience
The typical university life usually means plenty of travel and workaround for many students.
Students have to wake up earlier to attend morning lectures, but their schedules can be light at times.
During free time, it can be hard to get enough time or a suitable environment for studying as you also have a myriad of activities to handle.
However, remote learning gives you a chance to offset these drawbacks as you don't have to commute or lose time in between the study sessions.
You are only needed to attend the lessons virtually and have plenty of free time convenient for your lifestyle.
Additionally, these online classes can be attended from a local library, your home, or anywhere, and you can also complete assignments from any location you prefer.
The prestige
About a decade ago, many industries had a negative attitude towards students who attained their degrees through distance learning.
However, that is of the past now since universities and colleges across the world now have online degree courses.
Even the top institutions in the world like Harvard and Cambridge University are offering their courses via the internet.
This has made long-distance learning a reality and a haven for many students who for some reason cannot attend on-campus sessions.
And with the Covid-19 pandemic resulting in travel and movement restrictions, online learning and is possible due to an array of modern video conferencing tools such as Zoom and Skype.
The skills
Though joining a university and enrolling in physical learning will enable you to learn many skills, you will also gain much via online learning.
These skills are important in many aspects of your professional and personal life.
How long does an Online Degree take?
The time your online degree will take mainly depends on your chosen course.
However, expect about 3 hours each week for an undergraduate course of in-class time.
This is not inclusive of the time you will spend studying, doing homework, or exams.
Some students usually take more courses, and they end up with a tighter or customized schedule. This is not advisable as it will result in a longer graduating time.
Also, most online programs have minimum requirements for students who want to pursue a degree course.
Do Online Degrees have value in the career world?
Online learning is now offered by about 80% of universities in the world. Whether it's a two or four-year degree program, it's likely being offered in your favorite institution.
But though the number of students pursuing these courses has increased, it is worth your time and money? Or are they respected by employers just like the on-campus degrees?
Well, answering this question is more daunting than it seems since there are many ways of gauging the worth of your education.
Everyone loves knowledge and makes many pursuits to achieve it.
But in today's evolving world, it's not realistic or even reasonable to spend hundreds of hours in your course as there are other essential things to do.
This has made online degrees a favorite for many since students can easily focus on their careers and other important aspects of their lives.
Regardless of that, there are many ways of assessing the value of an online degree.
You have to ensure that the relevant departments have accredited the course.
Typically, most popular colleges and universities are accredited by the U.S Department of Education.
Those courses which have been accredited have a "career value" and qualify for other considerations such as employer reimbursement and student financial aid or loans.
Are Online Degrees Respected by employers?
Industry bias is an important tool since some industries despise online degrees compared to others.
To find out if there is employer bias, then check the employers' and educators' attitudes in the field.
And even though bias exists currently, things might become better in the future.
According to research, the bias has always been there against online programs, but it has reduced over the years.
This is due to the wide acceptance by colleges and universities across the world.
However, note that there is still a general perception among employers that online degrees are inferior slightly to those on-campus degrees.
Many employers are comfortable with degrees obtained through physical campus learning than those in an online curriculum.
Also, those famous and recognized institutions in a specific field or those with ties to a community or region are favored over others.
But times are fast-changing, and in a few years, most of the college degrees will be offered online, and students will only have to visit the campus for some administrative and lab functions.
Before this becomes a reality, employers should change their perception of online degrees and treat graduates the same way.
But some students are also concerned about whether their degree will be discounted simply because it's an online degree.
This is not true since provided the college offering the degree is legitimate and accredited, then your online degree is valid just like a college degree earned via traditional learning.
Besides, most employees concentrate more on your degree's quality rather than whether it was obtained online or through physical learning.
Some employers also love online degree programs since most people undertaking them are serious and even get enough time to study besides having family or jobs to take care of.
This proves that they are dedicated, discipline, and can efficiently multitask without neglecting a vital routine.
So, are Online Degree programs worth it?
Online degrees can be the best option for any student. And like other life commitments, it's important to know your options when it comes to an online degree.
They are also ideal for those who are working or those who lost a job to learn new skills and get some employment.
Studying online makes you flexible as you can cater to your family and handle other responsibilities while proceeding with your education.
Besides, there are introductory lessons in some online colleges that are made for those students who are not well-conversant with the computer to make it easier for them to adopt online learning.
However, just like physical learning, it requires discipline, hard work, and dedication.
This will soon culminate into a degree and, sooner, a career.
And if you want a more flexible schedule as a student, then it is time to enroll for an online degree.