Staying Organized and completing a long to-do list can be overwhelming when there are so many tasks at hand.
As a Student, Teacher or Parent is always wise to maintain your tasks in order and in control.
Luckily there are many types of online software tools that can help you get the job done in an organized manner.
Let's go through the top 8 task management software.
1. Trello

Trello is an application that can help you organize work by projects and then smaller items within each of those.
It also gives you the opportunity to collaborate with others, which makes it a great application for teams and big projects. Trello can also provide information about what tasks are in progress and what still needs to be started.
Trello works a lot like a whiteboard or project board, with notes for each task.
You can see what others are working on, and add additional items to be completed. You can also schedule what assignments should be completed next.
This application is very useful if you have many projects with a lot of small tasks to complete.
Trello offers a very generous Free Plan for individuals or teams that are just starting and want to get their tasks organize quickly and simply.
Key Features:
You can create unlimited cards
Invite unlimited members
Customized backgrounds and stickers
There's a Desktop, iOS, and Android App available
If your team has grown and you want to scale, Trello offers various paid plans according to your necessities.
You can try their Premium Plan 14 Day Free Trial with no strings attached.
2. Any Do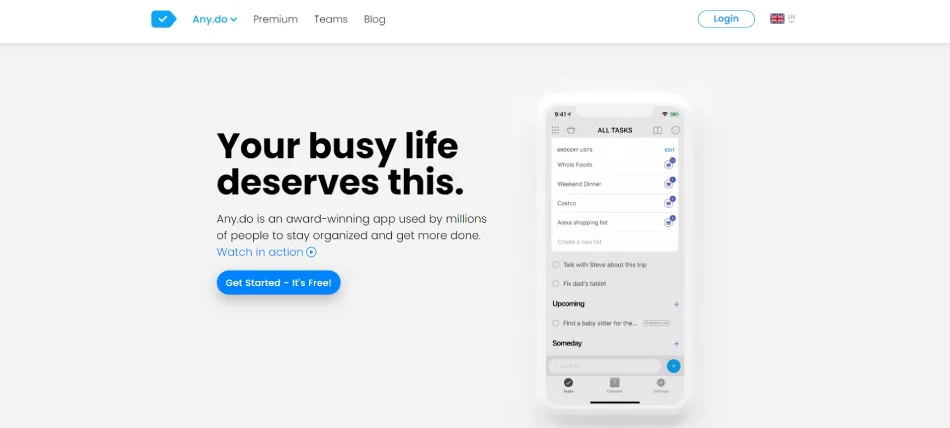 Any Do functions as a productivity app with lists, calendars, and reminders.
This application resembles a to-do list, but you can program in reminders and plan out tasks that need to be completed.
You can label jobs as ongoing or high priority to stay organized. Subtasks can be created beneath individual items if needed to cover all components.
What sets Any Do apart is the calendar feature combined with the to-do list. Using these features, you can schedule tasks on the calendar, set reminders to complete them, and effectively manage your schedule.
This application can also be used in teams to keep projects and calendars organized efficiently and to ensure no steps of the job are overlooked.
Any Do also offers a Free Plan and comes with cool benefits.
Key Features:
Available in all major platforms and browsers
Clean dashboard, easy to use
Check all tasks assigned to you on the same day
Set up a specific time to focus on your tasks
The premium plan is $2.99/mo (12 months), but they also have different plans according to your needs.
3. Todoist
One of the most popular productivity applications, Todosit is known for efficiency and ease of use across platforms.
With this software, you can program to-do list items into groups or folders. You can also collaborate with team members and schedule tasks to be completed. Each task allows the feature to make comments, to ensure seamless communication when completing items.
You can also add reminders or notes on to-do list items, or block out time for them to be completed in your schedule.
Additionally, Todist functions efficiently across platforms using the web version or mobile app, so it is perfect for use on the go.
This software makes sharing files and completing tasks simpler than ever.
Todoist also offers a Free plan, enough to get you started with the platform and decide afterward.
Key Features:
Up to 5 Active projects
You can invite up to 5 members per project
You can add any task via email
Automatic calendar synchronization
They have a Pro Plan starting from $3/mo billed annually and a Business Plan for $5 per user per month also billed annually.
4. Microsoft To-Do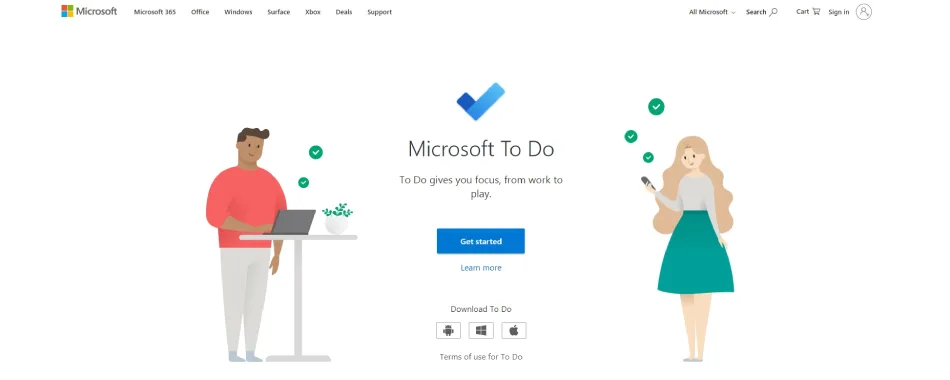 Microsoft To-Do is a combined to-do list and task planning application that will help you get work done efficiently.
Like similar applications, you can group items by projects or categories, which makes it easy to stay organized. This application can also be used across platforms, which makes it simple to stay organized with a busy schedule.
You can specifically plan out tasks to get them done within your schedule or check them off as you go.
Additionally, you can sync up your emails to add follow-ups to your to-do list. Once jobs have been scheduled, the application will give you an overview of your day and what needs to get done.
You can plan assignments out many days in advance to make for a seamless work schedule.
Another feature allows you to separate home and work to-do list items.
This can be useful for making grocery lists, cleaning schedules, or reminders for personal appointments.
This task management tool from Microsoft is Free.
Key Features:
They have a Web and Desktop app
Microsoft To-Do offers Two-Factor Authentication
You can share and store your documents with other To-Do users
You can schedule and prioritize any task
but also, if your team is rapidly expanding and you need to do more with this tool, Microsoft offers Microsoft 365.
5. nTask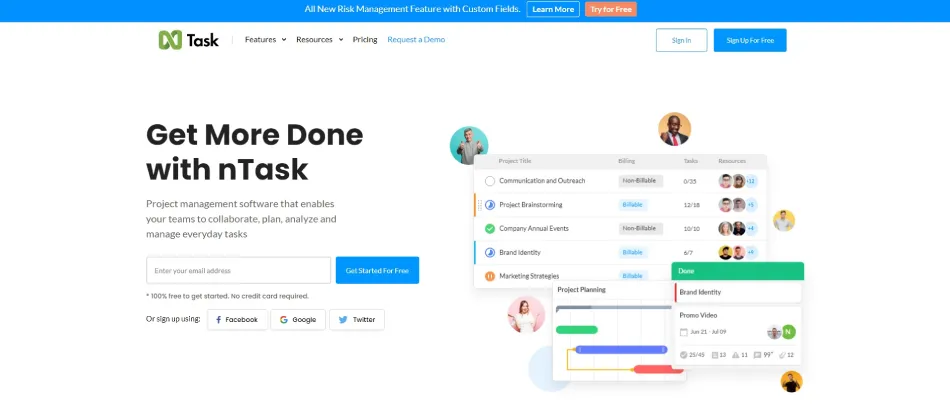 nTask is a task management application that focuses on team collaboration, scheduling, and task completion.
This application allows you to schedule tasks, assess progress, and share files among teams. It also has the option to set recurring assignments which can be helpful for frequent meetings or responsibilities.
Additionally, this application syncs up with outlook and google calendar to provide an efficient planning experience.
You can create and share project schedules to ensure that everyone is on the same page.
Team leaders can view individual progress on items, which can be beneficial for businesses or big projects.
nTask offers a Free Forever Plan, with limited but again enough to get you going and start organizing your tasks.
Key Features:
Up to 5 members per team
You can create unlimited workspaces and tasks
Easy to use dashboard
You have the ability to prioritize and track issues
Their Premium Plan starts at $2.99/mo per user (billed annually) and for the Business Plan it goes from $7.99/mo per user, both plans are offered with a 14 Day Free Trial
6. TickTick

TickTick is a to-do list, checklist, and task manager app that is efficient and works well for teams.
Through this application, you can organize tasks and projects, store files and notes, and assign items to team members.
Another great feature allows you to set alarms or timers when completing a task to stay on track.
Assignments can be scheduled on the integrated calendar, and you can add specific items to your "inbox" or to-do list for the day to ensure that it is completed. This allows you to schedule daily tasks, as well as schedule items in advance to stay organized and have a clear outlook on your week.
This is a great application for businesses or team projects as jobs can be assigned and monitored throughout the process.
You can also view a list of assignments that have been completed and a list of tasks that are coming up soon.
TickTick offers a simple but very useful Free Plan, with the tools very well design for your task management.
Key Features:
Built-in Calendar to track all your tasks
Pomo Timer helps you to stay focused on your tasks and be more productive
You can add Tasks through Voice, easy and simple
You can also track tasks statistics
nTask offers one simple Paid Plan for $27.99 a year per 1 user with lots of cooler customizable features.
7. My Study Life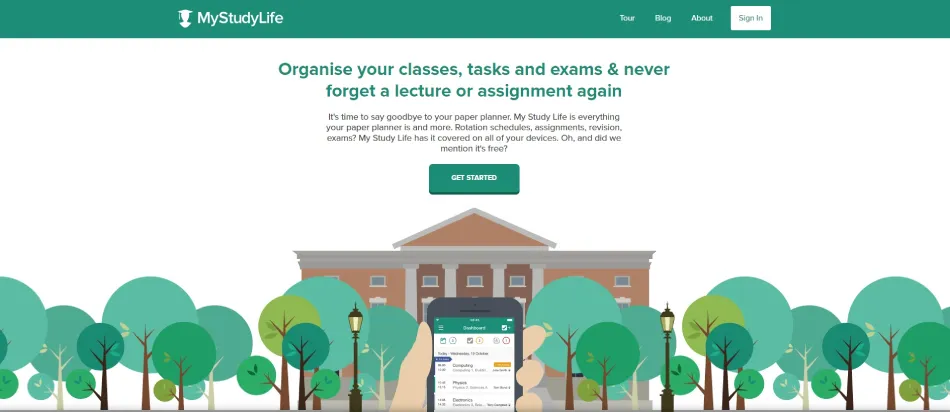 My Study Life is a planning platform specifically designed for students, teachers, and professors to keep academic responsibilities organized.
This free application allows you to store classes, assignments, and upcoming exams in the cloud to stay on top of your work.
This application can be accessed from any device, making it an efficient cross-platform service.
It is recommended by many students and teachers and works great for a busy academic schedule or courseload.
This efficient app is useful for keeping classes organized, as well as upcoming due dates and items to be completed all in one place.
MyStudyLife platform offers a Free Plan ready to start now, with no Paid Plans at all.
Key Features:
Built-in Calendar to track tasks, exams, classes, assignments you name it.
You can assign tasks to exams, that way you know what's left before the exam
Track tasks completion by the percentage
Task completion notifications
8. Taskworld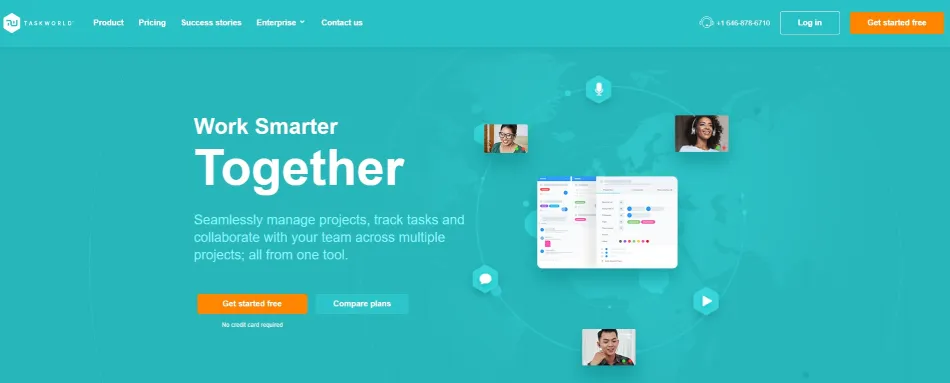 Taskworld is a virtual task management application that also functions as a tracker for remote work or other projects.
This software features visual message boards, time tracking, calendars, timelines, and dashboards all in one space.
It also features built-in team messaging, making for smooth and easy communication about projects.
Having all of these tracking systems in place makes this an efficient system for teams to use.
Another great advantage of this software is that it pulls data from the different projects you are working on and provides focus areas to get the job done.
Taskworld offers only Paid Plans to its users starting at $10/mo per user (billed annually), however, there's a 14 Day Free trial on their Professional and Business plan if you want to have a feel for their product and services.
Key Features:
Clean Dashboard and easy to use interface
Time track all your task
Message your team at any time with their built-in messaging feature
Real-time feedback performance reports
They also offer an Enterprise solution, for more information please contact the Taskworld team here.
Final Thoughts
Whether you start with a Free or Paid plan with these tasks management software tools, the most important thing is that you start as soon as possible implementing and developing your tasks management skills.
Independent if you are an individual to track your daily activities, or Student to track exams and classes, or the start-up team that needs to track an ocean of activities, just start developing the habit of been organized with your activities.
Check some additional Online Tools that we have in-house for you.
Good Luck with your task management activities.