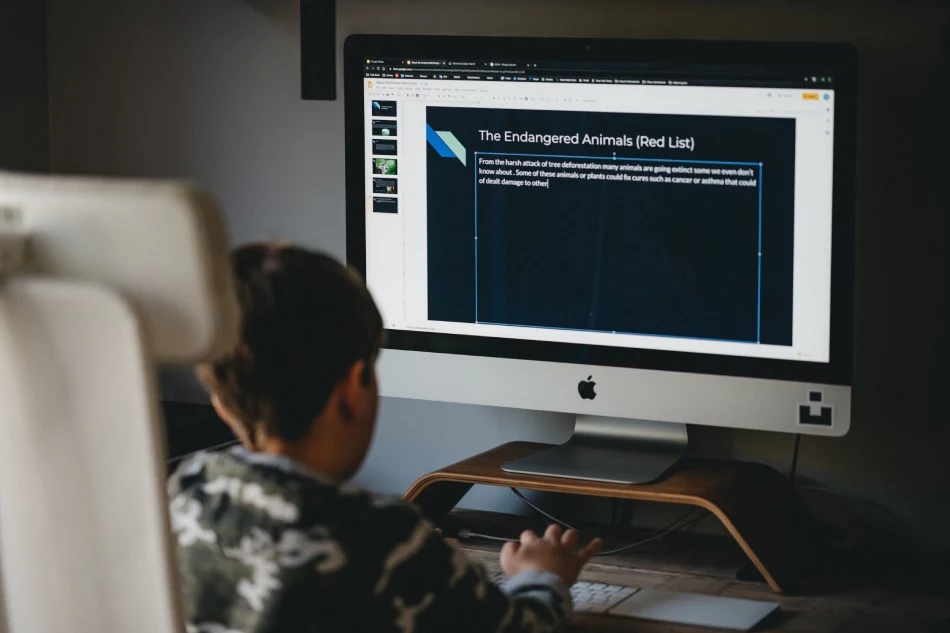 Many parents are preferring to homeschool their children instead of sending them to conventional schools. In this article, you will learn about the benefits of homeschooling and different accredited homeschool programs.
What is Homeschooling?
Homeschooling involves educating children at home instead of sending them to private or public schools.
Families opt to homeschool for various reasons, including different educational or religious philosophies, dissatisfaction with the available educational options, living in a rural area, and the belief that children are not progressing well within the typical school structure.
Why Homeschooling?
Homeschooling offers many benefits and that is the reason many children are learning at home. Homeschool offers flexibility, efficiency, and academic benefits.
Families that homeschool seek a lifestyle and education that is not based on minimum standards. The benefits of this education option include:
Shooling kids at home is suitable for any child. Whether a child is behind, ahead, strong-willed, quiet, challenging, active, or gifted, homeschool is great.
Parents can choose the right approach and pace
As a parent, you are in charge of the grade level, schedule, curriculum, learning approach, and even graduation requirements of your child.
Meeting the current needs of children right away
You can prioritize the emotional, mental, physical health, and behavioral needs of your child.
There is generous time for community activities, service, entrepreneurship, and volunteering.
Family is the unsurpassed foundation for values development, social development, and faith development.
The student-teacher ratio is low, without busy work and wasted time.
Avoid arbitrary minimal standards, testing mania, and teaching to the test.
Time for activities that many schools cut
Parents can make time for the outdoors, play, the arts, projects, and real experiments.
Accommodating to special situations
Homeschool works perfectly for families who travel, military families, and families contending with challenging work schedules or illness.
Children can get out of bad situations
At times, mental health problems can be connected to negative school situations. With homeschooling, parents can get their children out of a bad school student's situation.
This might mean a reduction in school-induced stress, safety from bullies, and greater self-acceptance. You can even choose to homeschool your child temporarily to create a better situation for him or her.
Encourage independence and autonomy
According to social studies, children learn more effectively when they have a strong sense of autonomy. Homeschooling helps cultivate autonomy in children.
Homeschooled students can choose what and how they want to learn.
They can learn around their curiosity and interests and not just to please their teachers or get a certain grade.
Parents can choose to minimize or avoid the emphasis on behavior modification that is prevalent in schools, and this helps children in developing intrinsic motivation.
If a child is struggling with social anxiety, anxiety, challenges to brain health, or depression, parents that homeschool can concentrate on the emotional and mental well-being of the child.
They can make coping skills, therapy, and medical care the priority and this will enable the academic growth they wish to see in their child.
List of accredited homeschool programs
There is a sea of online homeschool programs, so finding the right one for your family can feel like an overwhelming challenge.
With so many curriculums, programs, and classes, how do you know which one to pick?
Look over these specially-designed lists of accredited home school programs.
They are some of the best around and each is unique with their offerings by varying needs and circumstances.
Here is a list of 6 of the most popular accredited homeschool programs:
The Keystone School
Bridgeway Academy
Oak Meadow
Calvert Education
Forest Trail Academy
Laurel Spring School
The Keystone School

The Keystone School has provided the best homeschooling for over 40 years. Classes are flexible, high-quality, and individual.
The Keystone School believes learning is a lifelong process requiring active student engagement. This translates to a full or part-time K-12 curriculum for children and adults.
Accredited by Cognia and the Middle States Association of Colleges and Schools Commissions on Elementary and Secondary Schools (MSA-CESS).
Philosophy Approach
Parents, faculty, and staff enrich student involvement by being an active component of the education process.
Students receive a meaningful learning experience with effective, well-developed strategies in an atmosphere that promotes achievement and success throughout the homeschool journey.
The Keystone School offers various organizations and clubs for students to join while participating in a real school environment.
Teacher communication and course deadlines contribute to advancing outcomes and goals.
Enrollment
To sign up, browse the course catalog, add the desired classes to your cart and hit submit. You can easily contact the school with any questions or inquiries you have.
Bridgeway Academy

Founded in Pennsylvania in 1989, Bridgeway Academy offers educational freedom with personalized and a wide range of flexible homeschooling options.
Servicing grades K-12, they have a unique approach that fits beautifully with a variety of needs.
Accredited by Cognia and The National Association of Private Schools.
Knowledge, Power, and Confidence
Bridgeway Academy believes knowledge is power and power builds confidence; two important keys to a fulfilling life.
So, students with disabilities or those who are athletes and performers get the benefit of quality education while empowering themselves.
Whether faith-based or secular, the school caters to military, pastoral, and missionary families with a personalized focus on a student's individual needs.
Therefore, the student won't miss classes or frequently change schools.
Enrollment
To enroll, determine whether you want independent study, an online classroom, or the Charter School. Then, opt for elementary, middle, or high school coursework.
Finally, peruse the classes and make your final purchase. As always, you can contact the faculty with any questions.
Oak Meadow

Oak Meadow's progressive education for K-12 independent learners has enriched students since 1975.
They view their students as travelers on a journey where they are more like educators, not just customers.
Students can take classes independently or through teacher-supported distance learning.
Accredited by the New England Association for Schools and Colleges (NEASC) and NCAA approved.
Standards with Compassion
Oak Meadow is a school that prides itself on combining compassion with sensitivity and intelligence so learning is joyful and enriching.
They have rigorous academic standards that coincide with a student's interests, learning style, and skills.
They have accreditation by the New England Association for Schools and Colleges with teachers who are attentive and supportive.
This means there is more than one way for a student to demonstrate his/her mastery over the material.
Enrollment
Because of Oak Meadow's standards of excellence, students must first go through an acceptance phase before they can enroll.
But, once approved, you pay the full tuition while designing a one-of-a-kind curriculum dedicated to the student.
Calvert Education

As inventors of modern homeschooling, Calvert Education has 110 years of experience.
They help parents from all walks of life become the best homeschooling teachers throughout the United States and the world.
Accredited by the Middle States Association of Colleges and Schools Commissions on Elementary and Secondary Schools (MSA-CESS)
Educational Excellence
Calvert Education provides a top-notch, unparalleled curriculum with necessary support and guidance.
This is because they understand learning is a journey and every journey begins with a first step.
All classes are fully customizable with options to attend full time or take single courses.
Everything caters to a student's strengths and weaknesses while turning those weaknesses into strengths, helping them to enjoy the homeschool journey.
Enrollment
Before enrolling, have the student take placement tests for math, reading, science, etc. to ensure picking the right classes.
Then, add the appropriate curriculum to your cart. Be sure to contact the school with any concerns or inquiries too.
Forest Trail Academy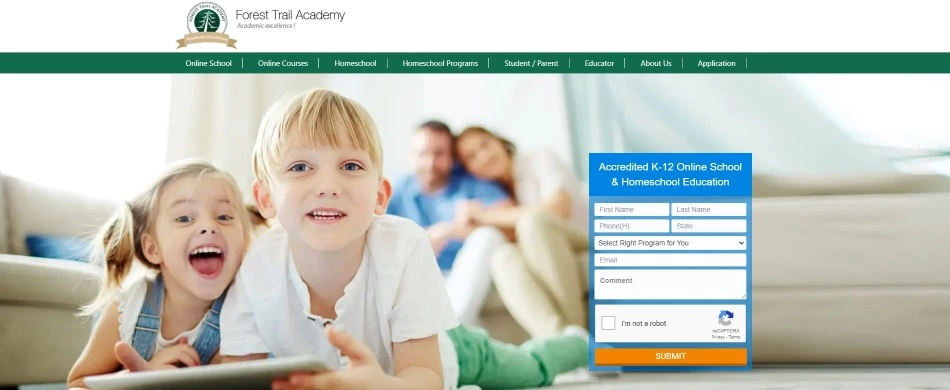 At Forest Trail Academy, K-12 students receive a world-class education in a fun, engaging, and interactive environment.
They prepare children for lifelong success and base their curriculum on the standards of the Florida Department of Education.
Accreditations:
Southern Association of Colleges & Schools Council on Accreditation and School Improvement (SACS CASI)
Middle States Association of Colleges and Schools Commissions on Elementary and Secondary Schools (MSA-CESS)
Accreditation International (Ai)
The National Council for Private School Accreditation (NCPSA)
Holistic Innovative Learning
This school commits itself to providing a cultural, academic, and pragmatic education in the hopes of empowering future leaders in innovative and holistic ways.
They offer alternative solutions to meet the needs of each student and their various living situations.
Forest Trail Academy's approach is simple: vocational orientation combined with a rigorous curriculum amid a self-paced, relaxed environment.
These components translate to a fulfilling education while building the necessary skills to be a well-adjusted, successful individual.
Enrollment
You must first apply before enrolling. Once accepted, parents, faculty, and the student go through a discovery process so the student receives the best plan possible.
Laurel Springs School
As a pioneer in online private education, Laurel Springs School provides K-12 classes that are flexible, personal, and foundation-building.
Since 1991, they help students achieve their academic goals with support and encouragement. This includes post-graduate guidance so students get into the colleges they want.
Accredited by Cognia and the Western Association of Schools and Colleges (WASC).
Developing Essential Skills
This school values students as individuals, which means their passions and pursuits become part of the learning experience.
They focus on developing critical thinking skills and mastery over the material while encouraging independence and purpose.
Laurel Springs School understands that each person has their own goals, talents, interests, and learning styles.
So only an education that recognizes these will provide a strong basis and tools for ultimate success.
Enrollment
Once they receive your application, a staff member will contact you. Then, you will discuss the options available with recommendations for what steps to take next.
Alternative Non-Accredited Homeschool Programs
IXL Learning – 34.5 Million users per month

This is an online membership program that provides parents with access to social studies, science, math, Spanish, and language arts through question mastery and drills.
The IXL app has a full curriculum for junior kindergarten to grade 12, real-time analytics, and individualized guidance. For that reason, it can meet the unique needs of every learner.
A majority of homeschool parents worry that their children may have some gaps in their schooling.
It is normal for children to have gaps no matter whether they are public schooled or homeschooled.
However, since parents take full responsibility for the education of their children, they worry more about it.
IXL is designed to fill in the missing pieces. To use the program, parents need to set up the program for their children and take a diagnostic test to determine their weaknesses and strengths.
The program utilizes the areas a child is weak in and provides recommendations for areas to start working on.
The most essential thing to note about it is that it is not a teaching program. It does not always pre-teach the material before the student is required to answer questions.
If a student answers a question wrong, it explains why and provides the right answer.
Time 4 Learning – 5.4 Million users per month

Essentially, Time 4 Learning is an assortment of learning resources that are conveniently divided according to the course and academic level.
The service is created for students beginning from pre-kindergarten, middle school, and all the way to 12th grade.
That means it can become a one-stop-shop for the academic needs of homeschooled children.
The millions of families that use Time 4 Learning are happy with the level of service that this program offers.
However, if you are searching for a website that can help you with certain tasks like research papers and essays, Time 4 Learning is not the right solution for you.
You cannot find a dedicated writer to assist you with the assignment.
One of the merits of Time4Learnin is that it is a completely online curriculum.
It is, therefore, an excellent option for parents who like homeschool on the go, lack adequate space for additional school supplies, or require a program that they can easily access with a login instead of a downloaded program that is specific to an individual computer.
The program also offers student-paced courses.
This means that students can start working on any specific task of the course whenever they have the availability and feel ready to put in all the effort. If students wish to get ahead for an early break or need to spend more time on certain lessons, they can do so.
Time4Learning also provides weekday support for chat, phone, and email. Therefore, parents do not have to figure out everything about the program themselves.
Alpha Omega Publications – 1.2 Million users per month

This home education program provides various Christian-based curricula in both print and online formats, including Switched-On-Schoolhouse, Horizons, LIFEPAC, and Monarch subscription plans. AOP also provides Alpha Omega Academy, which is an online Christian school for grades K to 12.
It is an accredited online school that provides one-on-one teacher interaction.
Students are able to go through their lessons at any given time. It is therefore a flexible option.
The parent sets the schedule of the student, including the dates when the school year begins and ends. Students can learn all year long or take a break each semester.
Alpha Omega print curriculums
This is a complete kindergarten to grade 12 program that has been designed by a team of accomplished educators. It enables the students to work independently at their own pace using self-directed worktext.
It is a unit-based, unique Christian homeschool curriculum created for children in pre-kindergarten to grade 12.
It is a family-based curriculum that utilizes daily bible themes as the foundation and then comes up with lessons for every student to expand the learning opportunities.
This is a brightly illustrated curriculum that mainly concentrates on math and language arts. This spiral-based curriculum is excellent for students who have issues focusing.
The parents provide instructions in this teacher-led curriculum.
Online curriculums
This is a media-rich online program that makes it easier to keep records. The program offers automated grading and tracks all records for up to seven years.
You can access Monarch from any computer anywhere with WIFI access.
This is a computer-based curriculum for 3rd grade to 12th grade. It offers instruction through video clips, animation, and fascinating media. It does not require the internet.
Abeka – 2.8 Million users per month

Abeka is a Christian educational platform that focuses its resources to provide the best Christian educational materials through academic integrity, testing, content research, and more.
The resources come in digital and physical format and include workbooks, textbooks, videos, and readers. Parents can purchase the products as grade-level kits or individually.
It helps the student get ready for college and includes Christianity in the curriculum.
This homeschool curriculum takes after the conventional-at-home approach.
It attempts to copy the educational method that most private and public schools use.
If you utilize Abeka, you are likely to sit your children down at a desk with laptops or textbooks where they do their work. The program also tests children similar to how traditional schools test children.
Another benefit of studying at Abeka Academy is accreditation.
Many parents think that having accreditation is a must, but this is not the case.
Parents can get their teenagers into high school even if they lack homeschool accreditation. Nonetheless, some parents wish to have a homeschool program that is accredited.
This way, they can have peace of mind knowing that they are following a course that is approved by the accreditation agencies.
This program offers accreditation and it is not costlier than other programs that do not offer accreditation.
Easy Peasy – 1.6 Million users per month

Easy Peasy is a low-cost, all-inclusive homeschooling program. The author of the program is Lee Giles and she has spent many hours creating and enhancing it for her kids.
Just like its name suggests, the program offers the complete curricula for pre-school all the way to high school. It includes everything you need with minimal additional supply cost.
Subjects such as foreign language, core subjects, art, and physical education, among others are included.
Parents have the option to either complete the level as a complete curriculum or select various subjects at different levels. It also promotes a biblical worldview.
The only expense linked with this program is the ink and paper required to print the few necessary printables.
Most of the assignments have the option to complete online or print. Students can complete many assignments online and as independently as they desire.
The instructions for the assignments are conversational and students can easily understand them.
One of the favorite things about the program is the assignments at times instruct the students to tell parents what they learned or read and often award the student with a hug from the parent.
Sonlight – 182k monthly users

The Sonlight curriculum offers literature-rich kindergarten to 12th-grade Christian homeschool curriculum and related educational resources, products, and programs.
Sonlight is a Christian form that specializes in literature-based homeschool curriculum programs that selects engaging readers and books that cover topics like history, the bible, handwriting, language arts, science, math, and more.
It provides complete homeschool curriculum packages and individual materials and resources so you can build the K-12 or preschool home education curriculum that meets your family's needs best.
Sonlight's benefits include:
Great selection of books that tie with curriculum
Easy to follow
Fast shipment
Cons
This curriculum was started by a homeschooling family that sought to offer the best materials at a reasonable cost for families residing as overseas missionaries.
The family-based program on Dr. Ruth Beechick's educational philosophy- structured, but flexible enough to enhance real-life learning.
Charlotte Mason's ideas influenced the family and it also desired to include real books.
Furthermore, it wanted to come up with a program that does not require too much time from parents with many other responsibilities.
The ideas reflected the needs of many families that educate their children at home, whether they are missionaries or not.
BJU Homeschooling – 68k monthly users

As a homeschool parent who works, time is valuable. Fortunately, BJU press makes distance learning makes it easier for parents to use their time wisely.
When parents implement distance learning in their home education day, they can monitor the schoolwork of their children while taking care of their daily obligations.
One of the main benefits of BJU Press is convenience.
Distance learning with this program is easy. Students can just sign in online and view video lessons. Parents can rest easy knowing that their kids are getting high-quality education from the comfort of their homes.
This program is also customizable.
When ordering the online curriculum, parents can choose to customize their kit to substitute the grades they need.
This means you can get the correct reading curriculum that fits with your child's ability.
BJU is also mobile-friendly. It makes it easier for students to stay on the go while also squeezing in some learning time.
For instance, if you want to take your child on a school trip, you can get in the car and he or she can watch a lesson while you drive.
At home, your child can select where to learn from.
These accredited homeschool programs can meet your needs. Just choose the one that meets your budget and preferences.
Conclusion
Finding an excellent online homeschool program doesn't have to be a difficult, daunting process.
Simply consider what will be best for the student and how much participation parents can involve themselves in.
Also consider the student's future, what they want to do and what they hope to achieve.
All the best in your search.